VITAL PERFECTION
Best Seller Set
Best Seller Set
VITAL PERFECTION
Enjoy Shiseido's Vital Perfection Lifting & Firming Serum Duo
Details
/gb/en/shiseido-best-seller-set-3423222057008.html
Overview
Structure to reuse:
VITAL PERFECTION BESTSELLER SET
Vital Perfection has been formulated with new Shiseido ReNeura Technology++™* and KURENAI-TruLift Complex. The enhanced skincare collection helps to reawaken skin's potential, and counteract the visible signs of ageing: loss of elasticity, wrinkles and dark spots. VITAL PERFECTION LiftDefine Radiance Serum - 40ml This new Vital Perfection serum improves multiple signs of ageing around the face and neck in just 4 weeks*. VITAL PERFECTION Intensive WrinkleSpot Treatment - 20ml This new Vital Perfection targeted treatment reduces the look of deep wrinkles and dark spots in just 4 weeks*. *Clinical test result on 38 women.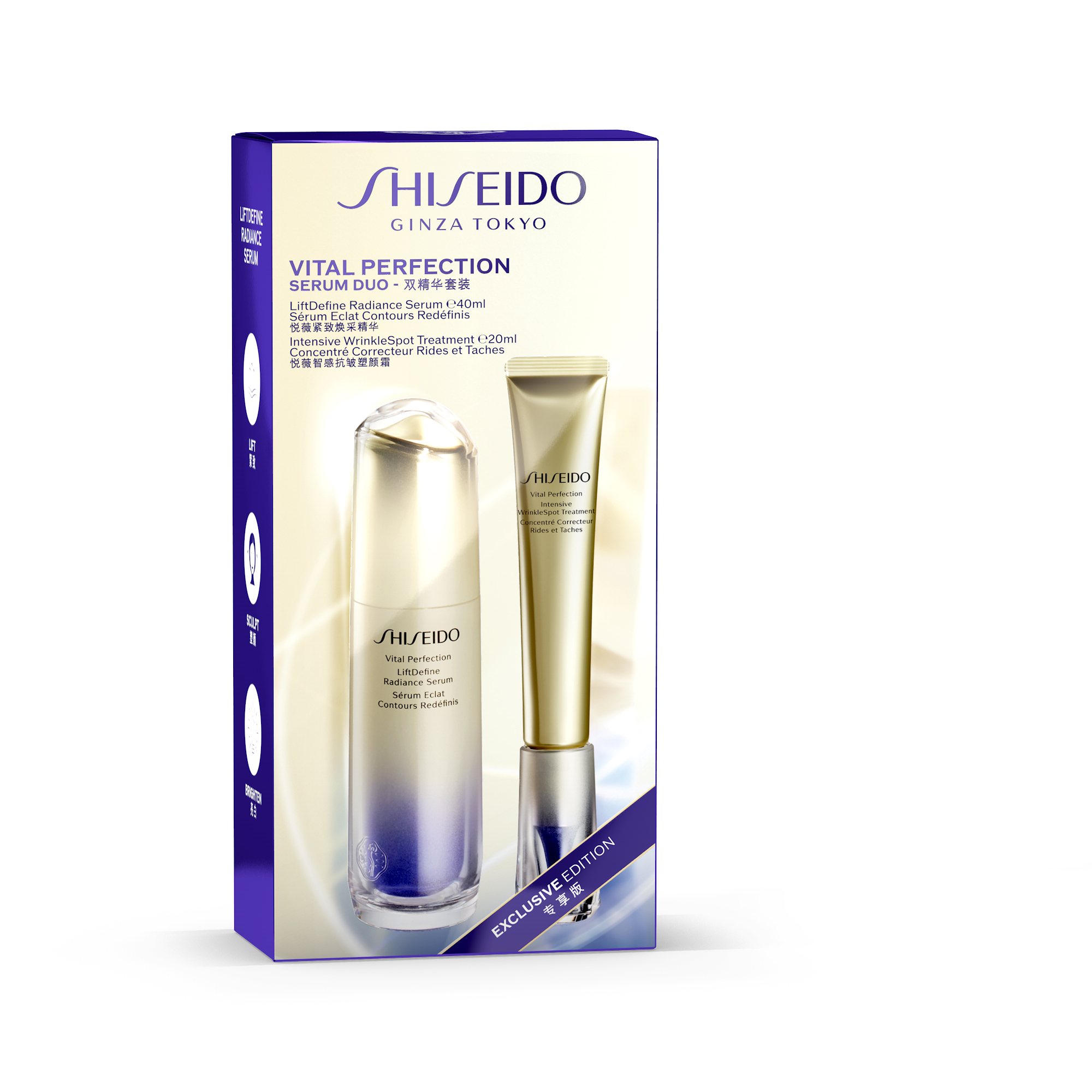 Key Ingredients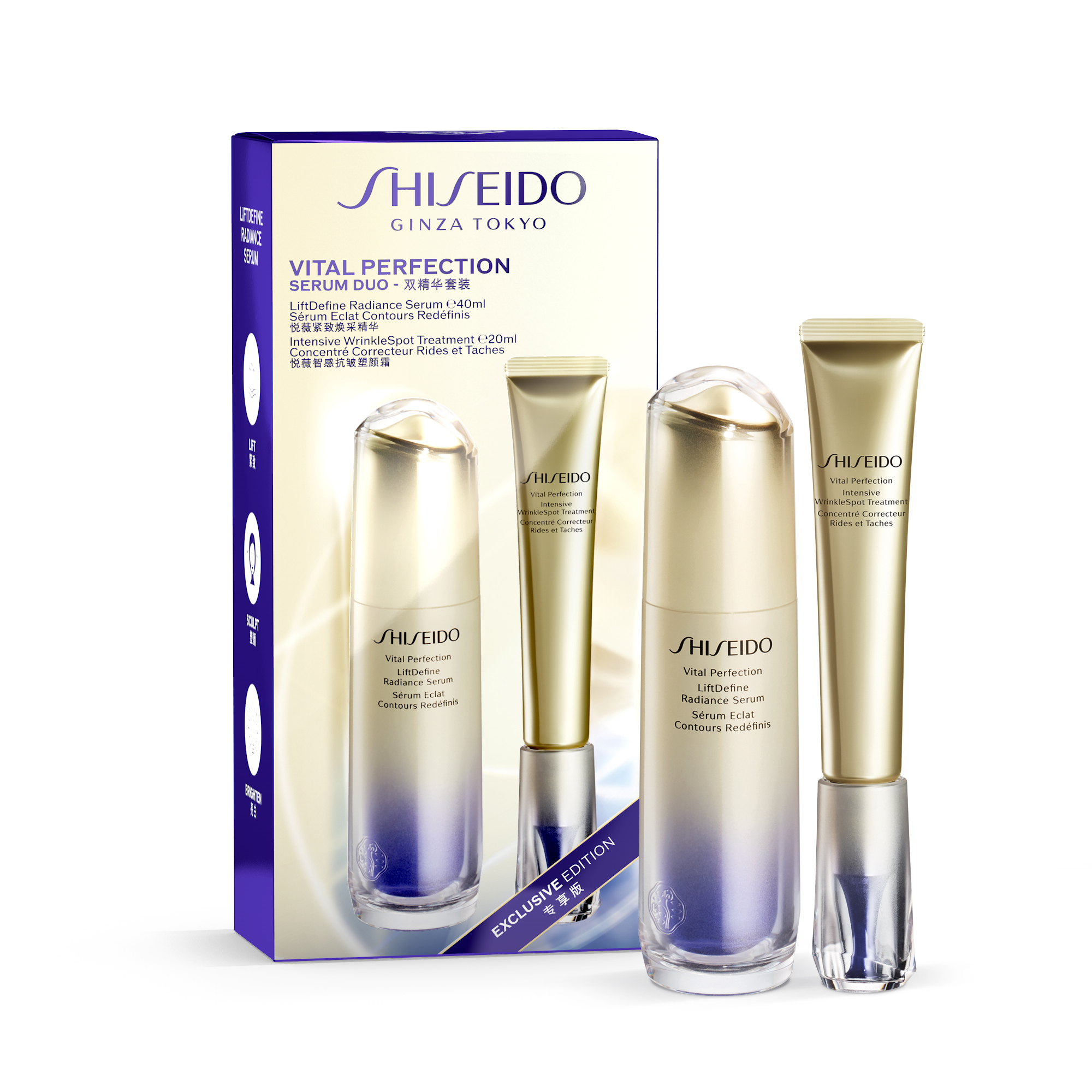 HOW TO USE
Vital Perfection LiftDefine Radiance Serum • Apply each morning and evening before moisturiser. • For greater effects, follow the massage directions. 1 MINUTE MASSAGE TECHNIQUE STEP 1 – Face & Neck -Place on 6 areas (both cheeks, nose, forehead, chin and neck) and blend into skin. -Blend into your neck with circular motions. STEP 2 – Jawline -Tuck your chin in slightly and hold the bottom of your jawline between your thumbs and pointer fingers. -With pressure, slide your fingers up along the jawline, starting from your chin and ending below your ears. (Repeat 3 times) STEP 3 – Smile lines -Hold four fingers together, placing your pointer fingers along your smile lines. -Move upward toward the temples, pulling smile lines open, with your palms flat on your cheeks and lift. (Repeat 3 times) -End by lightly pressing your temples. Vital Perfection Intensive WrinkleSpot Treatment STEP 1: Eye Area With the middle and ring fingers of both hands, gently smooth cream along the bottom of your eyes, from the inner corners to the outer corners. With one hand, gently stretch crow's feet flat. With the middle finger of your other hand, apply the cream in up-and-down motions. STEP 2: Mouth Area With the middle and ring fingers of both hands, gently stretch smile lines and skin around the mouth to each side and blend cream into skin. STEP 3: Dark Spots Area With the middle fingers of both hands, gently smooth cream onto skin in circular motions. STEP 4: Neck Area Lift chin to stretch neck wrinkles out. Smooth cream over the area. With your right hand, gently smooth the cream over the left side of your neck, from the bottom upward. Repeat on the right side using your left hand.
Best Seller Set
Details
/gb/en/shiseido-best-seller-set-3423222057008.html