ULTIMUNE
Serum Power Infusing Concentrate

Image
Serum Power Infusing Concentrate
ULTIMUNE
New Ultimune, our #1 anti-ageing serum gets even stronger with innovative technology
Details
/gb/en/shiseido-serum-power-infusing-concentrate-768614172840.html
Variations
15 ml

30 ml

50 ml

75 ml

120 ml

Refill (75ml)
Overview
Skin Type
Normal, Oily, Combination, Dry
Scent
A green floral fragrance with the comforting effect of relaxation and energy.
Contains ImuCalm Compound™, to prevent damage due to emotional stress.
Texture
The thick yet dewy texture spreads lightly on your skin and your eye area.
The satiny smooth feel remains, as if skin is protected by an invisible veil.
ULTIMUNE Power Infusing Concentrate
New Ultimune, our #1 anti-ageing serum gets even stronger with an innovative double anti-ageing technology powered by 8 botanical ingredients. Experience healthy and youthful-looking skin!
Our innovation. Our research. Your results.
89% HEALTHY SKIN(1)
87% SMOOTH SKIN(2)
90% RENEWED SKIN(1)
(1)
Test site: US subjects : 115 individuals after 8 weeks use
(2)
Test site : US subjects: 110 individuals after 1 day use
25 Years of Research
224 Beauty Awards(3)
1 sold every 8.6 seconds(4)
(3)
Number of awards as of December 2021 worldwide
(4)
B-NASS worldwide sell-in data for Ultimune serum from January to December 2021
Discover the Ultimune refill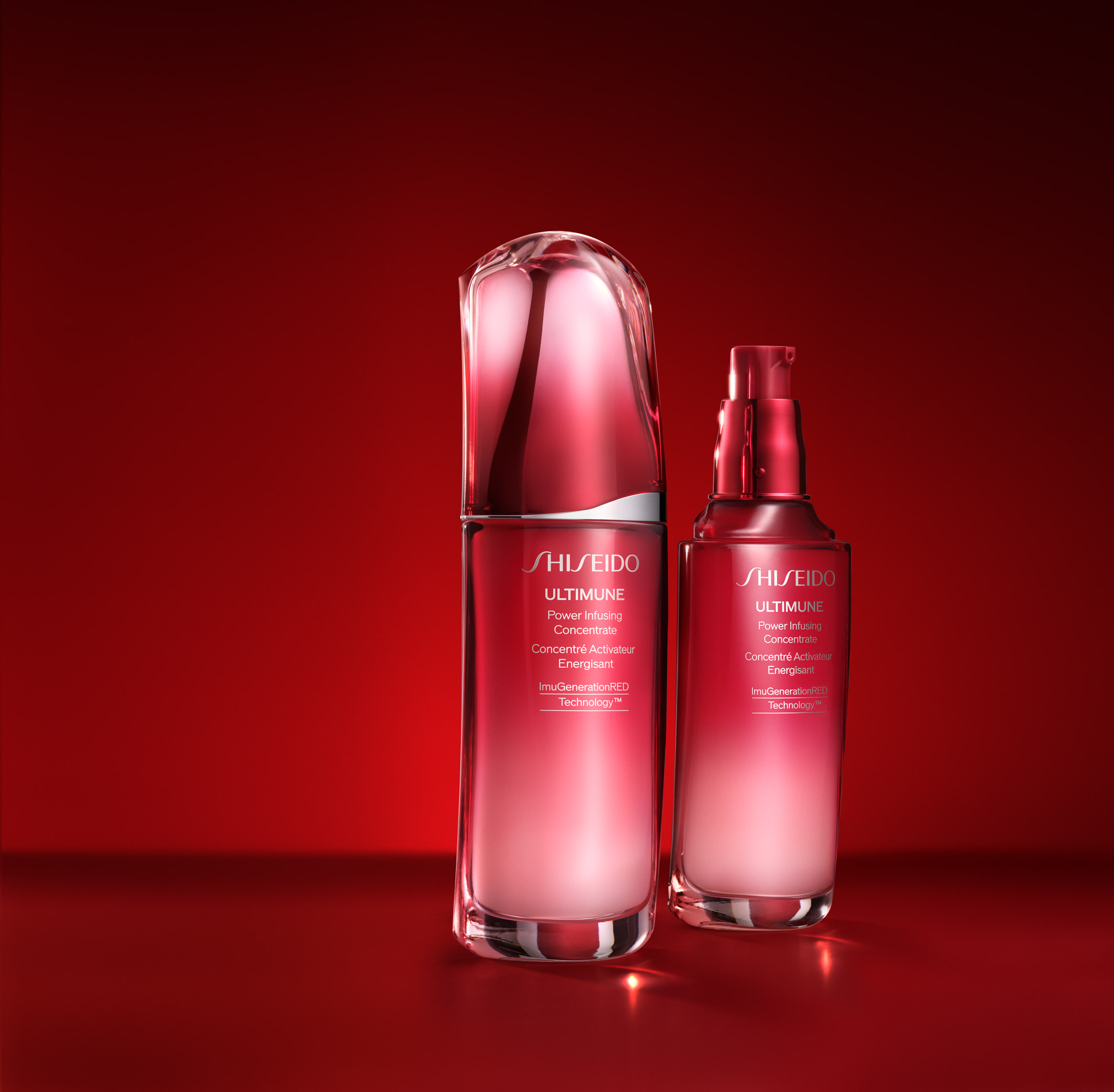 WHAT DOES IT DO?
• Activates skin's inner defenses.
• Stimulates skin's vital flow to lead your skin to its ideal condition.
• Hydrates and defends skin against the effect of stress, natural ageing and pollution.
• Optimises skin's resilience.
WHO IS IT FOR?
Ultimune is a universal-use anti-aging serum that can be used from 30+ years old. It can be used for all skin types by women who desire a healthy vibrant skin, free from signs of aging and full of radiance.
WHAT WILL I SEE?
• Immediately, skin looks smoother and feels deeply nourished.
• After 3 days, skin looks visibly more radiant(1)
• After 1 month, skin is firmer(2) and looks more resilient(3).
• After one bottle, wrinkles are visibly diminished(4), skin looks younger and renewed(5).
(1) consumer test on 103 volunteers
(2) clinical test on 32 volunteers / (3) consumer test on 95 volunteers
(4) clinical test on 90 volunteers / (5) consumer test on 115 volunteers, after 8 weeks
Key Ingredients
HOW DOES IT WORK?
Ultimune Serum works with a double anti-aging technology called ImuGenerationRED. On the other hand, the botanical ingredients have an effect on aging, against the effects of stress and on the effect of pollution, as for example:
• The Heart Leaf extract helps your skin to be more resilient.
• The Lotus and Ginko creates an ideal environment for your skin and protects it against the effects of pollution. Learn more about ULTIMUNE
How to use
HOW TO USE
HOW TO USE IT? • Use mornings and evenings after cleanser and softener and before moisturiser. • Dispense 2 pumps of serum into your palms then smooth over your face. APPLICATION METHOD • Take the appropriate amount of serum onto your palm and using your middle and ring fingers, place it on 4 areas: cheeks, forehead, nose and chin. • Apply from the centre outwards on your cheeks, forehead and around the eyes. • Glide down the centre and sides of your nose. • Starting from the centre of your chin, circle around the mouth. • Glide in a single circle along each side of your jawline from the centre of the chin to underneath the ear and back again.
YOUR SKINCARE ROUTINE
Reveal your most beautiful skin in 3 steps.
Serum Power Infusing Concentrate
Details
/gb/en/shiseido-serum-power-infusing-concentrate-768614172840.html