Strengthen & Lift Bundle
Enjoy 15% off a Strengthen and Lift set (50ml).
£215.05 by adding in your cart.
More
/gb/en/strengthen-and-lift-bundle-STRENGTHENTANDDLIFT.html
Item No.
STRENGTHENTANDDLIFT
Overview
Strengthen & Lift Bundle
ULTIMUNE Power Infusing Concentrate Ultimune Serum works with a double anti-ageing technology called ImuGenerationRED™ that works both on skin immunity and skin circulation: • Boosts the function of immunity cells for strong skin defence • Boosts skin circulation to maintain a healthy blood flow Additionally, the botanical ingredients have an effect on ageing, against the effects of stress and pollution: • The Rosella extract improves the function of immune cells. • The Heart Leaf extract helps your skin to be more resilient. • The Reishi mushroom and Iris extract optimises the number of Langerhans cells that have an effect against stress. • The Lotus and Ginko create an ideal environment for your skin and protect it against the effects of pollution. Vital Perfection Uplifting and Firming Cream Vital Perfection is a new proactive skincare range for a lifted and tightened look. Inspired by our latest holistic research in skin science, neuroscience, and other areas of human health, Shiseido developed a revolutionary multi-faceted skin revitalising solution that reawakens skin's potential. The Uplifting and Firming Cream has a silky, luxurious texture that fights the loss of elasticity, wrinkles and dark spots. Skin is moisturised, tightened, resilient and has a bright look. Vital Perfection has been formulated with ReNeura Technology++™ for fast anti-ageing results and the exclusive KURENAI-TruLift complex that helps to promote resilience and elasticity** to improve firmness. VP8 complex with 4MSK is an effective brightening ingredient for an even and radiant look. *Clinical or instrumental test on 35 women. **In vitro data Vital Perfection Uplifting and Firming Eye Cream This nourishing cream targets the cause of eye-area concerns and intensively counteracts the look of age-related fatigue such as wrinkles, dark circles, and undereye bags. Rediscover your most radiant skin, and reawaken its potential with ReNeura Technology++™ for fast age-defying effects, and MATSU-ProSculpt Complex for a smoother, more vibrant and tightened look. Proven efficacy: Visibly reduce sagging, dark circles and eye wrinkles in just 1 week.* Visibly reduce the signs of "age-related fatigue" in 4 weeks.* *Consumer test on 104 women.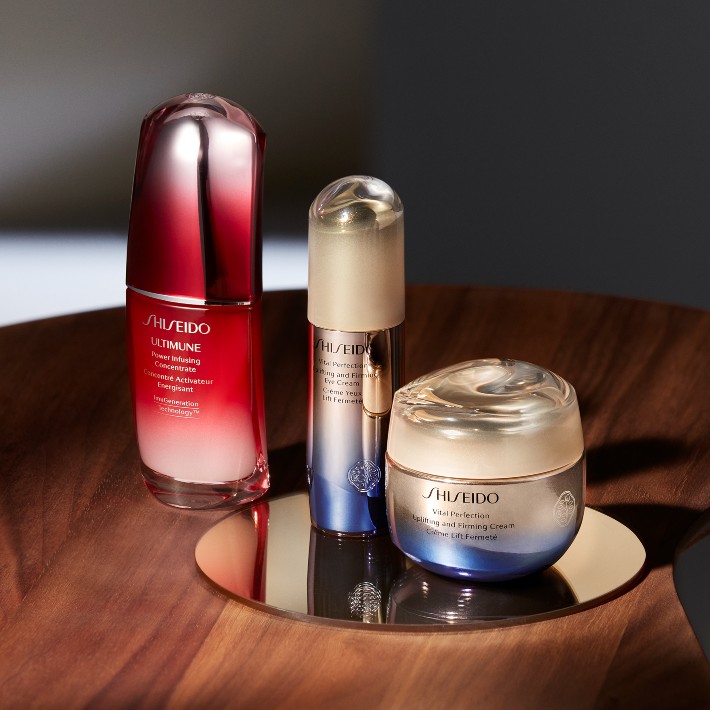 Key Ingredients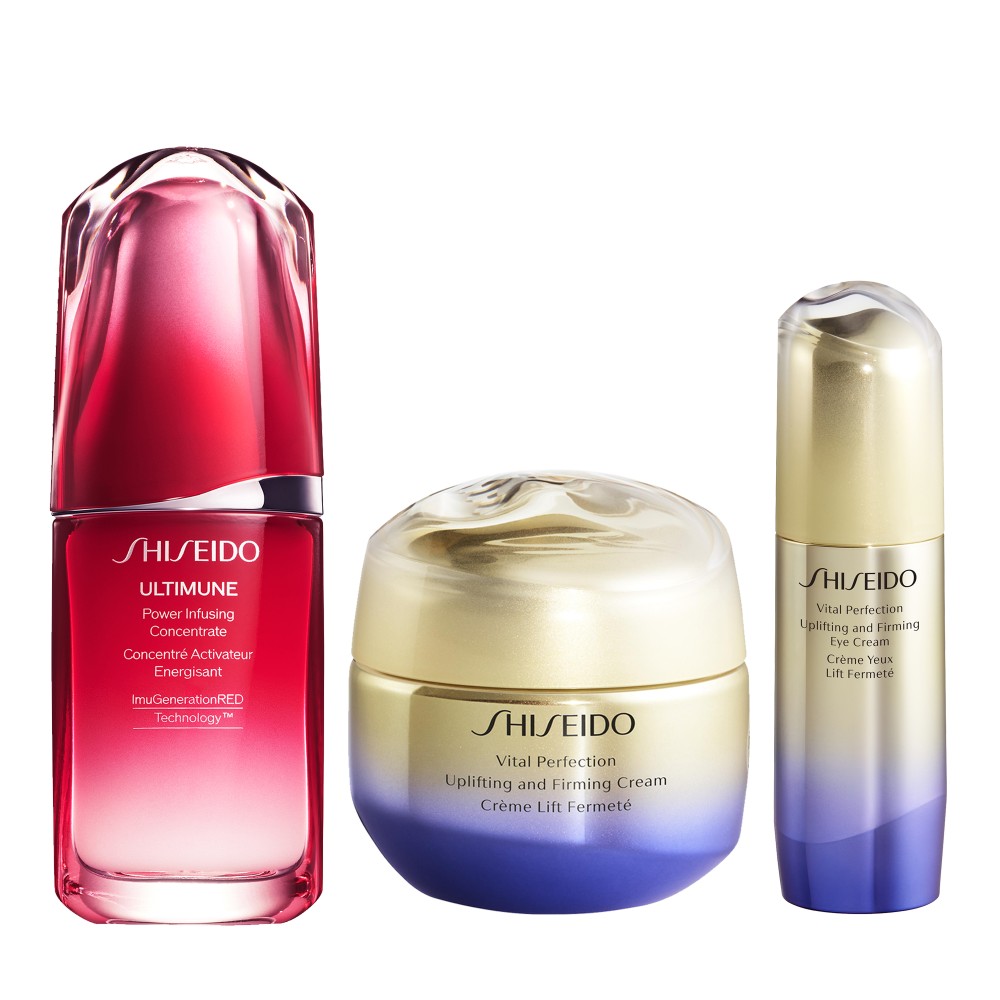 How to Use
STEP ONE: SERUM 1) Use mornings and evenings after cleanser and softener, but before moisturiser 2) Use two pumps of serum and smooth over your face STEP TWO: MOISTURISER 1) Apply each morning and evening at the end of your skincare routine. 2) Take two pearl-sized amounts with the spatula. 3) With a fingertip, dot evenly onto five areas (each cheek, forehead, nose and chin) and spread out smoothly. 4) Repeat each motion several times. 5) Apply SPF afterwards if applied for the daytime. STEP THREE: EYE CREAM 1) Apply morning and evening on clean skin around the eye area. 2) Pump once to dispense cream onto the fingertips and gently apply around the eye area, followed by a massage for relaxation. 3) In the morning, use before a skincare or makeup product with SPF. 4) In the evening, use as the last step of your skincare routine.
Strengthen & Lift Bundle
Details
/gb/en/strengthen-and-lift-bundle-STRENGTHENTANDDLIFT.html
Item No.
STRENGTHENTANDDLIFT