SHISEIDO MEN
Total Revitalizer Cream

Image
Total Revitalizer Cream
SHISEIDO MEN
Target the 5 major signs of ageing and stay hydrated for 48 hours.*
Details
/gb/en/shiseido-total-revitalizer-cream-768614184089.html
Overview
Routine
Use every morning and evening. 1/ Clean and/or shave your skin 2/ Apply SHISEIDO Men Ultimune 3/ Apply Total Revitalizer Cream
Skin concern
Dullness, skin roughness, wrinkles, sagging, loss of resilience
Texture
A fast absorbing texture. Absorbs quickly avoiding any sensation of stickiness. The cream spreads effortlessly with no residue leaving your skin energised and toned.
Scent
Freshness of lemon, bergamot and bamboo blends exquisitely with hinoki cypress, Litsea Cubeba, sandalwood and amber.
START NOW, STAY VIBRANT
High-performance anti-ageing cream. Target the 5 major signs of ageing and stay hydrated for 48 hours.* *Instrumental test on 24 volunteers Shiseido Research discovered that men's skin shows signs of ageing 10 years earlier than women's. To improve your skin's performance, Shiseido has developed the next level anti-ageing and hydration cream. Anti-ageing cream for energised and revitalised skin. Advanced anti-ageing skincare solution that slots effortlessly into your daily routine: 48-hour hydration* to energise your skin throughout the day and help your skin combat the 5 major signs of ageing: wrinkles, sagging, dullness, roughness, and loss of firmness. Double up your strategy against signs of male ageing Defend your skin and regenerate youthful skin functions by combining SHISEIDO Men Ultimune and Total Revitalizer Cream. 94% felt skin looked even younger when ULTIMUNE was used with Total Revitalizer Cream wih Rice Bran Technology. * *Consumer test on 117 volunteers NON-COMEDOGENIC, DERMATOLOGIST-TESTED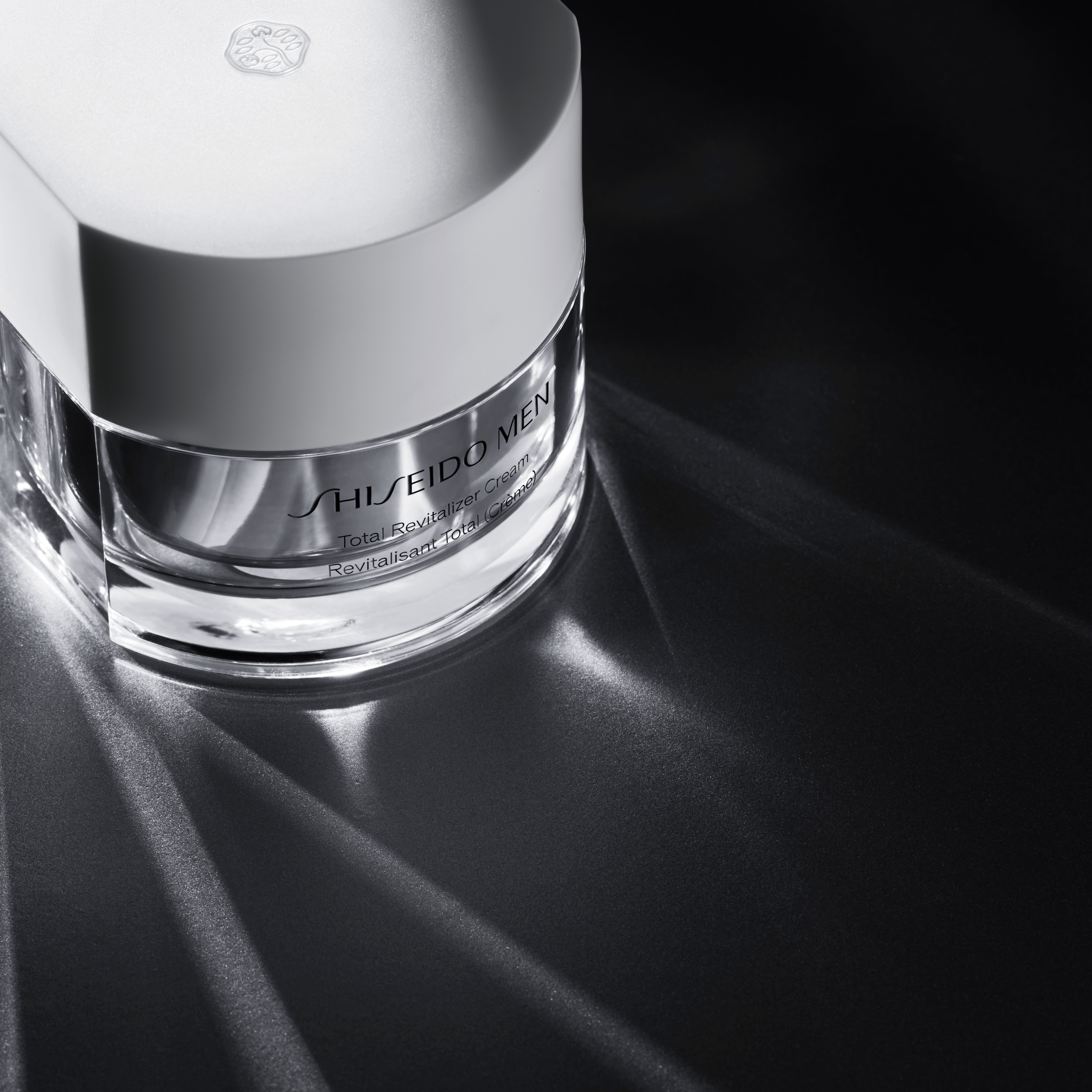 What does it do?
• Moisturising effect • Anti-ageing • Anti-wrinkles • Anti-roughness
Who is it for?
• Men 30+ who have concerns with ageing • Men concerned with wrinkles, sagging and dryness • Men who want a more youthful and healthy appearance
What will I see?
Visibly improves roughness in 4 weeks* Wrinkles: 65% improvement** Sagging: 71% improvement** Dullness: 100% improvement** Resilience: 90% improvement** Barrier function: 87% improvement** *visual assessment test on 32 volunteers **% of respondent who shows skin improvement – instrumental test on 32 volunteers Experience visible change with SHISEIDO MEN ULTIMUNE.* 94% felt fine lines were less visible 93% felt skin was less dull 96% felt skin was firmer
* Consumer tested with 117 men based on 2 months of regular daily use.
Key Ingredients
How does it work?
New Rice Bran Technology Improves the 5 major skin ageing signs: wrinkles, sagging, dullness, roughness and lost firmness. Infused with: - Rice Bran Oil Complex: produces cell energy to aid in cell turnover in epidermis* - Xylitol: moisturises and softens stratum corneum* - Nicotinamide: multi-functioning in epidermis, inhibits excess melanin, increases skin elasticity* *in vitro test Cornflower Extract Helps to strengthen skin's resistance against the 5 main causes of ageing* * in vitro test
How to use
How to use
・Use every morning and night after cleansing and/ or shaving face. ・If preferred, tone skin with lotion before application. ・Take onto fingertips and smooth evenly over the face. Avoid contact with eyes.
YOUR SKINCARE ROUTINE
Reveal your most beautiful skin in 3 steps.
Total Revitalizer Cream
Details
/gb/en/shiseido-total-revitalizer-cream-768614184089.html