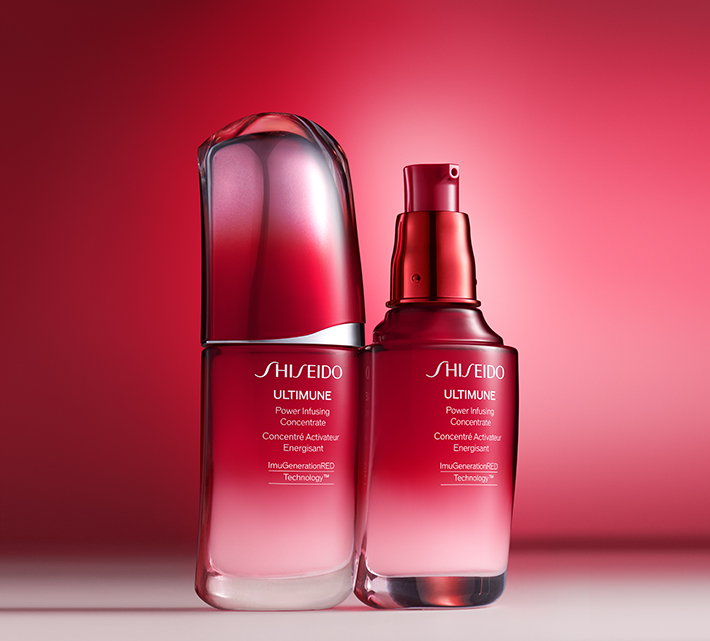 Meet Ultimune Serum for visibly radiant skin in just 3 days*
Our #1 anti-ageing serum gets even stronger with an innovative,
double anti-ageing technology powered by 8 botanical ingredients.
Discover healthy youthful-looking skin with Shiseido Ultimune face serum.
*consumer test on 103 volunteers
Discover our #1 anti-ageing serum
"Ultimune is one of those products I recommend time and time again, and the latest version is the best yet. Not only is the serum deeply hydrating and soothing, it also makes my skin feel firmer and look brighter. This really is a product I would use to the very last drop"
— Sonia Haria, Telegraph Beauty Director
How does it work?
Ultimune Serum works with a double anti-ageing technology called ImuGenerationREDTM that works both on skin immunity and skin circulation:
- Boosts the function of immunity cells for strong skin defence
- Boosts skin circulation to maintain healthy blood flow
How to use?
Use mornings and evenings after cleanser and softener, but before moisturiser.

Dispense 2 pumps of serum into your palms and then smooth over your face.
Our innovation. Our research. Your results.
* Test site : US subjects : 115 individuals after 8 weeks use
** Test site : US subjects : 110 individuals after 1 day us
Activate your skin's
defence power
Power Infusing Concentrate
New Ultimune, our #1 anti-ageing serum gets even stronger with an innovative double anti-ageing technology and 8 botanical ingredients.
Power Infusing Eye Concentrate
Defend your skin with Ultimune Power Infusing Eye Concentrate for 30% less damage in the eye area.
Prefer an At-Home Consultation?
Try the Skincare Consultation Online.
Answer questions on your lifestyle and skin habits
to get customised SHISEIDO product recommendations
based on your individual responses.