ESSENTIAL ENERGY
Hydrating Cream Value Set
New

Image
New
Hydrating Cream Value Set
ESSENTIAL ENERGY
Beyond hydration. A source of power for a fresh, healthy glow.
Details
/gb/en/shiseido-hydrating-cream-value-set-3423222069117.html
Overview
Hydrating Cream Value Set
This set contains: ESSENTIAL ENERGY Hydrating Cream - 50ml This new Essential Energy Hydrating Cream immediately improves the moisture of the skin. This airy, soft moisturiser gives quick and deep penetration to keep charging your skin with glowing hydration. Clarifying Foam - 5ml For all skin types. A rich foaming cleanser to effectively remove impurities, excess skin-dulling surface cells, pollutants and oxidized substances. Skin feels soft and radiant, its texture refined. Treatment Softener Enriched - 7ml The richly textured softener quickly penetrates into the deeper layer of the stratum corneum, to continue infusing moisture. Minimises the appearance of fine lines caused by dryness. ULTIMUNE Power Infusing Concentrate - 10ml Our #1 anti-ageing serum gets even stronger with an innovative double anti-ageing technology powered by 8 botanical ingredients. Experience healthy and youthful-looking skin!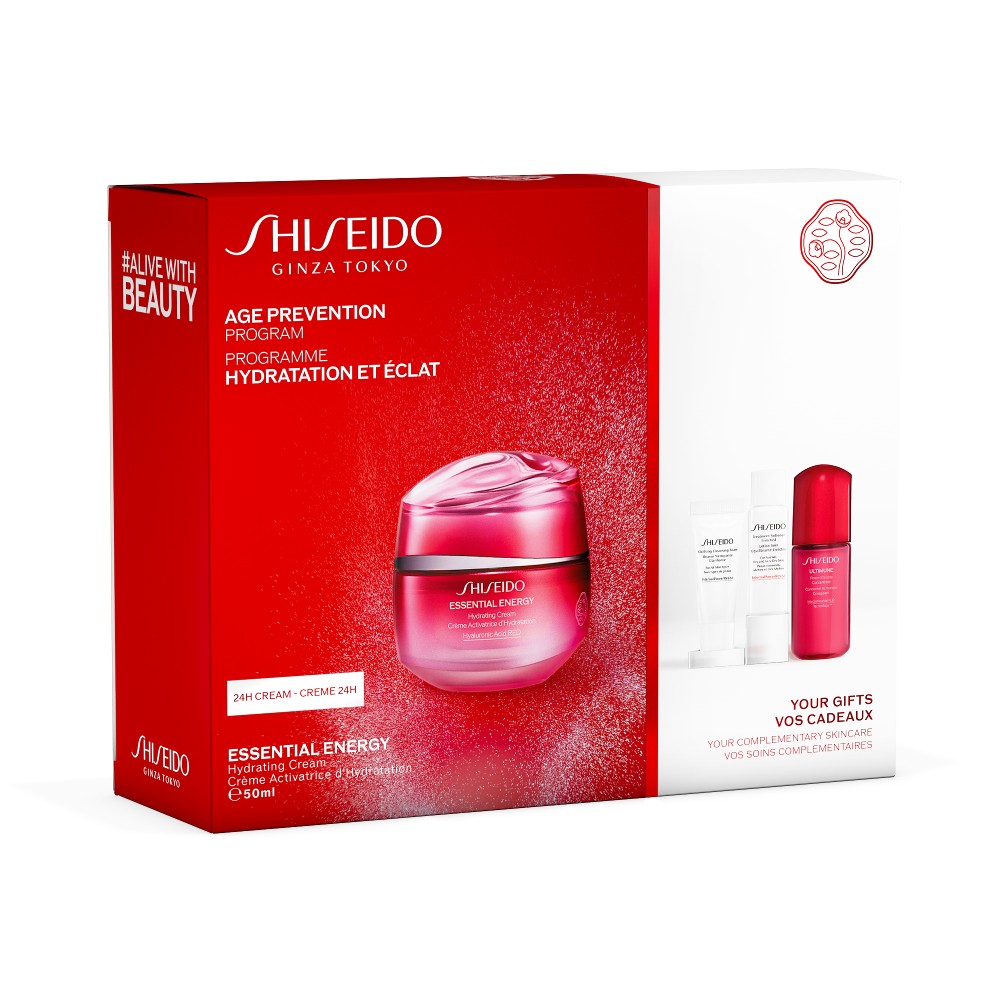 What does it do?
'This cream empowers the skin's healthy glow with fresh moisture. - Powered by SHISEIDO's Hyaluronic Acid RED & Ginseng, Essential Energy charges your skin and activates its ability to produce double hydration and prevent the first signs of ageing. - For fresher, healthier looking skin.
Who is it for?
For all skin types. - Dryness - Fine lines
What will I see?
'- Immediately 93%* said skin feels moisturised. - In 1 week, 85%* said skin feels soft and supple. - In 2 weeks 74%* said fine lines are less visible. - In 4 weeks 86%* said skin looks healthy and vibrant.
*Consumer test with 107 women.
Key Ingredients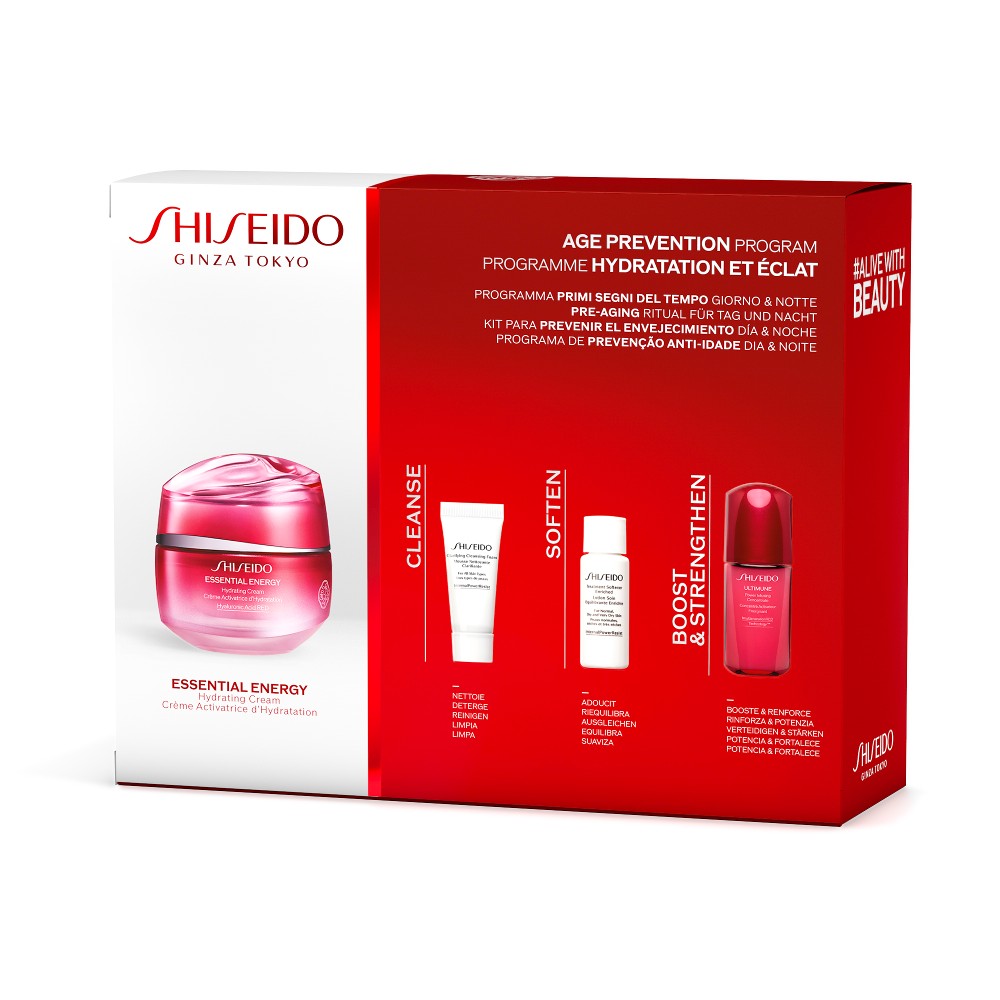 How to use
STEP 1 Clarifying Foam Take an approximately dime-size amount into the palm of your hand. Add small amounts of cold or lukewarm water to lather well and cleanse the skin. Rinse thoroughly. Can be used daily, morning and night. STEP 2 Treatment Softener Enriched After cleansing, saturate a Facial Cotton pad and wipe gently over your face. STEP 3 ULTIMUNE Power Infusing Concentrate Serum Use every morning and evening after cleansing and before moisturising. Take the appropriate amount of serum onto your palm and smooth evenly over your face. STEP 4 ESSENTIAL ENERGY Hydrating Cream Use every morning and night -Take cream onto your fingertips and apply it to your cheeks, forehead, nose and chin. -Smooth the cream gently over your face, starting in the larger areas such as the cheeks and forehead. Move from the centre of the face outward. NON-COMEDOGENIC. DERMATOLOGIST-TESTED.
Hydrating Cream Value Set
Details
/gb/en/shiseido-hydrating-cream-value-set-3423222069117.html