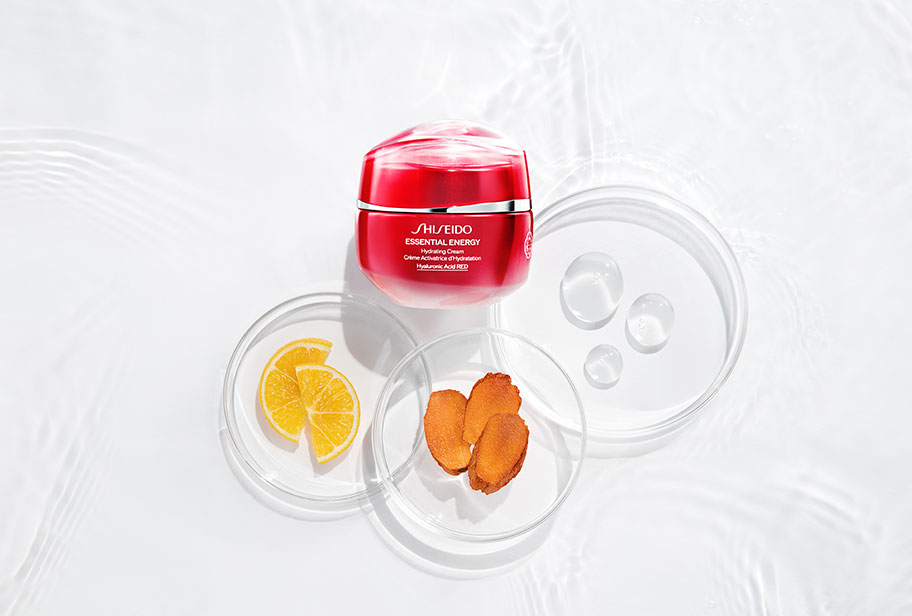 Hyaluronic acid has long been hailed as a hero in the skincare world; a pore-plumping powerhouse that delivers nourishment to all skin types, from oily to dry. But can anything truly be that good for your skin – or that versatile? Here, we reveal the hyaluronic acid skin benefits you need to know, so you can start reaping the rewards for your complexion…
But first, what is hyaluronic acid?
What some don't know is that hyaluronic acid is a naturally occurring substance, meaning your body already produces a certain level of it for your muscles, joints, eyes and skin. The reason it has skincare experts fascinated is because it can hold up to 6,000 times its weight in water, making it the ultimate moisture magnet for dehydrated skin.
But if it's naturally occurring, why do we need to add more? "Naturally, hyaluronic acid breaks down very quickly – it takes less than 24 hours inside the skin," explains Nathalie Broussard, Scientific Communication Director at Shiseido. "Enzymes called hyaluronidases or the build-up of free radicals are responsible for this deterioration."
She adds: "While the skin can reproduce it every day, the total amount of hyaluronic acid gradually declines over the years. Unsurprisingly, the skin becomes less hydrated, and starts to sag. It is less supple and more prone to the appearance of wrinkles."
That's why hyaluronic acid creams and serums are needed to boost your natural HA levels and support your complexion as it changes over time. Dehydration is more common than you might think, and this moisture molecule is the key to restoring balance once more
How do you know if your skin is dehydrated?
Your skin doesn't need to be dry to be dehydrated. Even oily and acne-prone complexions can be secretly parched – and, in fact, that dehydration could be contributing to the excess sebum you're seeing. When skin is thirsty for moisture, the sebaceous glands can go into overdrive, pumping out more and more sebum to leave your T-zone shiny and unbalanced.
"Hydrated skin is plump, smooth and there are no signs of flaking on the surface," says specialist in aesthetic dermatology and skin ageing, Dr. Daphné Thioly-Bensoussan. "When it is dehydrated, it looks and feels like cardboard, it's rough and dull.
"A lack of water leaves the skin less elastic and it does not recover its original shape as quickly when pinched. It feels uncomfortable and tugs; you feel like you need to apply and reapply cream endlessly to find relief." What's more, Dr. Thioly-Bensoussan adds: "Dehydration causes fine lines to appear, and these lines can become permanent if the skin is not rehydrated in time."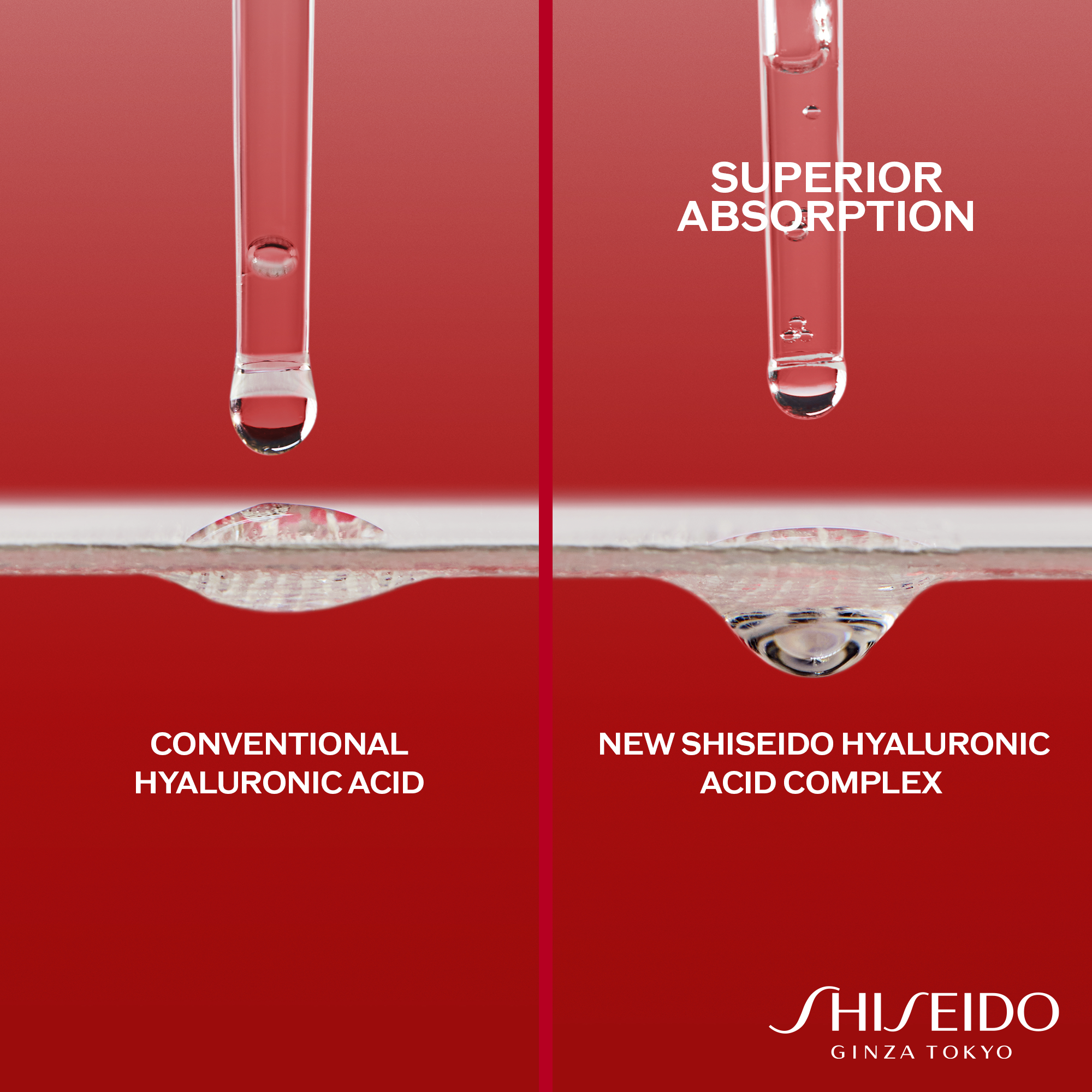 What are the benefits of hyaluronic acid for your skin?
Now you know how dehydration contributes to ageing – and how moisturising hyaluronic acid can be – you can guess some of the main benefits of using this superpower molecule on your skin. But it goes beyond hydration. As you'll see below, hyaluronic acid plays a vital role in balancing out your complexion and maintaining health from deep within.
1
It offers lightweight hydration
Knowing that hyaluronic acid can hold up to 6,000 its weight in moisture might make you think it's heavy and rich – but that is far from the truth. On its own, hyaluronic acid is a liquid-light, water-like substance that's effortlessly absorbed into your skin, so it won't feel greasy on application. Just refreshingly weightless.
2
It holds the moisture in
Hyaluronic acid doesn't simply hydrate; it actually locks that hydration in, so your skin stays fresh, dewy and moisturised for longer. In the epidermis, it's able to trap water molecules, while protecting against water loss and dehydration. Think of the molecule like a sponge, soaking up and holding onto as much moisture as it can.
3
It gives your skin a full, plump appearance
In the dermis, the sponge-like texture of hyaluronic acid also means it's able to increase the volume of the skin, which is how you achieve that added plumpness. This is especially helpful for targeting crepey fine lines, which you tend to see around the eye, mouth and forehead area.
4
It supports collagen production
As Nathalie explains, "Hyaluronic acid helps fibroblasts to evolve in an invigorating and stimulating environment, and that keeps them working optimally. They can then evolve under the best conditions to produce the skin's support fibres more effectively: collagen and elastin." As we know, collagen is another naturally occurring molecule that's crucial to plump, healthy skin.
Is it okay to use hyaluronic acid every day?
Yes, you can use hyaluronic acid as much as you like. We recommend making it part of both your morning and night-time regimens to enjoy the full benefits. It's completely safe (after all, your body produces the molecule too), so you don't need to worry about applying 'too much'.
Can hyaluronic acid be used with vitamin C?
If you want to combine the plumping power of hyaluronic acid with the brightening boost of vitamin C, you can. One of the added benefits of HA is that it works well when teamed with other hard-working ingredients. So, if you like to go to bed with the YUZU-C Beauty Sleeping Mask on to enhance overnight radiance, you'll still be able to layer a little hyaluronic acid underneath.
Can I put hyaluronic acid around my eyes
Hyaluronic acid is safe to use around your eyes, but make sure you are following the instructions on your chosen HA serum or cream. They may have added ingredients that aren't suitable for the eye area, so it's important you read carefully before applying product in this delicate place.
How to add hyaluronic acid to your skincare routine
Not all hyaluronic acid skincare is made the same, so it's important to seek out supercharged creams where the HA can be easily absorbed, and holds onto a high level of moisture. Shiseido was the first company to produce biotechnological hyaluronic acid in the cosmetic industry, and our use of the molecule has continued to evolve over almost four decades.
With the launch of the Essential Energy Hydrating Cream, we've developed a blend of two HAs: one with a high molecular weight and one with a medium molecular weight. "This unique combination of hyaluronic acids allows better interaction with the upper layers of the epidermis," says Nathalie, "while ensuring optimum penetration and high- performance hydration."
This is a quick, easy and effective way of adding hyaluronic acid to your regimen. Simply apply the Hydrating Cream morning and night to instantly flood your pores with the moisture molecule. You can apply it directly onto freshly cleansed skin, but to boost the hyaluronic acid benefits, try taking cues from Japanese skin rituals with this five-step routine: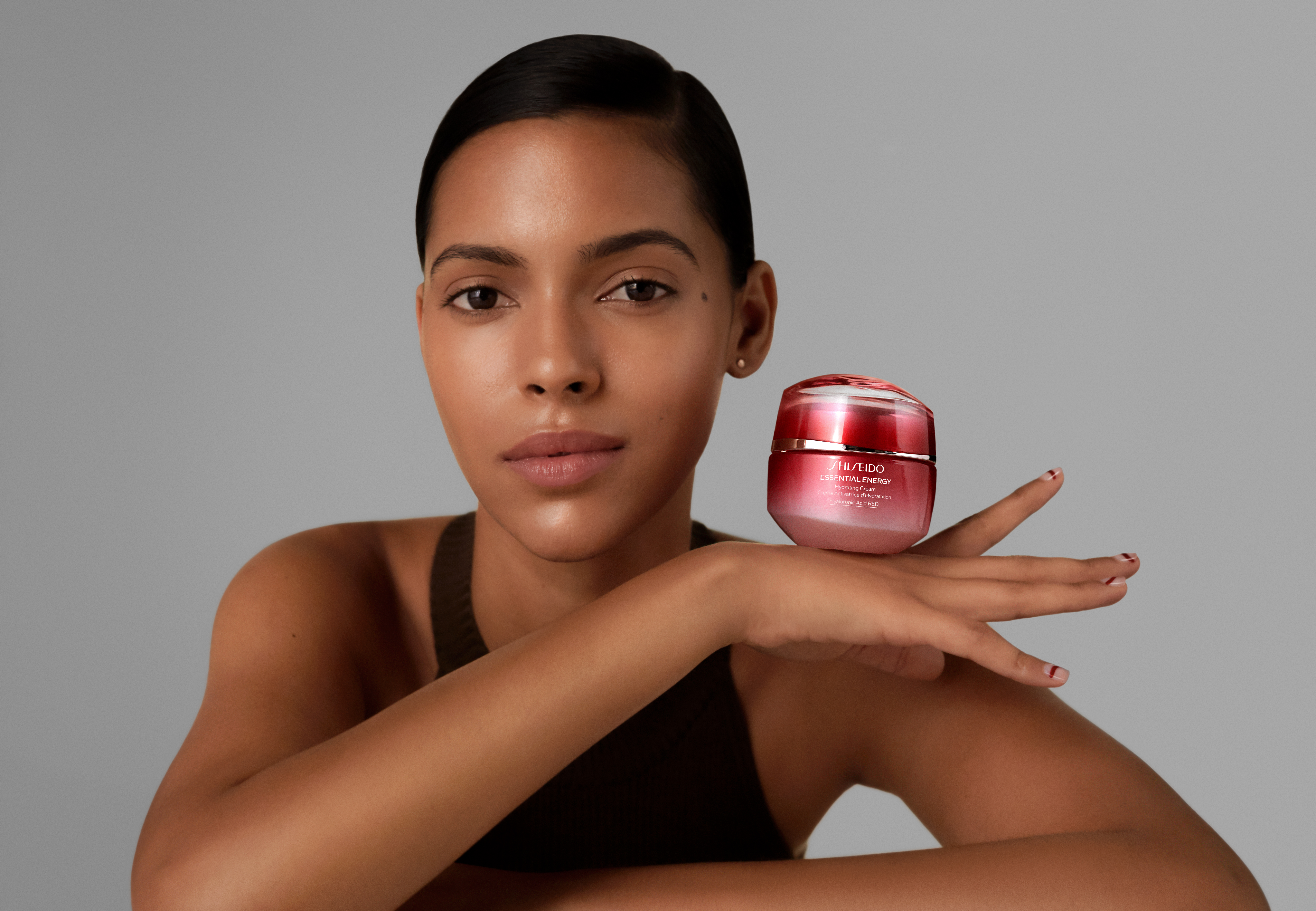 Up next
What are skin softeners? In our guide, we reveal everything you need to know about this Japanese beauty essential.