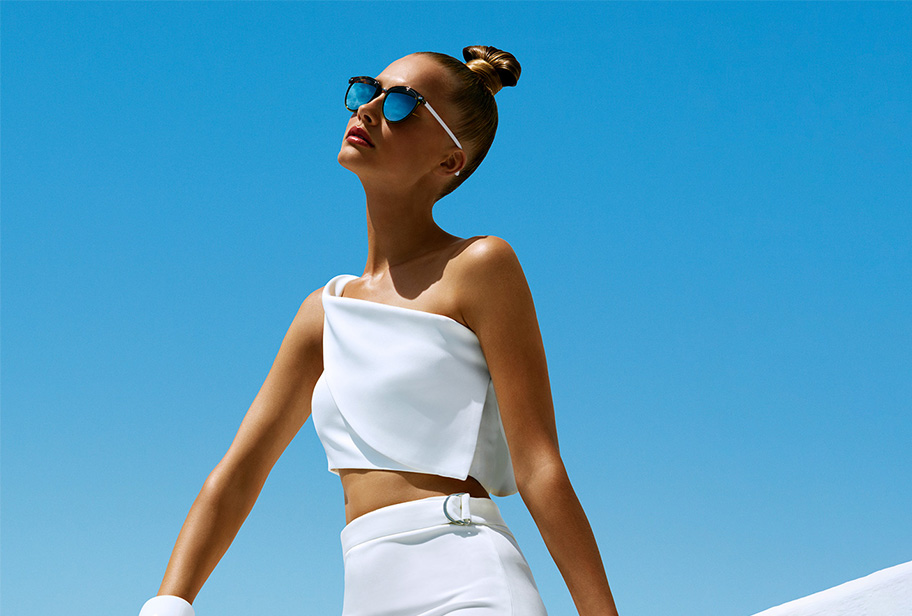 You already know that SPF needs to be topped up throughout the day. It's the only way to truly protect skin from UV rays and, in turn, their age-accelerating effects. But, when you've carefully applied your primer, foundation, concealer, blusher and bronzer, the last thing you want to do is swipe sunscreen over your makeup and disturb that flawless base.
So, what can you do? Read on for expert tips from Shiseido on how to reapply sunscreen over makeup, so you get long-lasting protection and keep your makeup look intact all day…
1. Apply a base layer of sunscreen first
EXPERT SUN PROTECTOR Face Cream SPF50+

Before starting your makeup routine, apply your base layer of sunscreen. This goes on after serum and moisturiser, but before any primer or foundation touches your skin. For this step, use an extra high SPF, like Shiseido's Expert Sun Protector Face Cream SPF50. Not only does it create a silky-smooth canvas, but it also harnesses our revolutionary SynchroShield TechnologyTM. This means its UV shield gets stronger when exposed to heat, water and sweat*. Come rain or shine, you're going to reap its highly protective benefits. And it doesn't stop there! Our skincare formula is enriched with skincare ingredients, which helps to protect against the appearance of fine lines, wrinkles and uneven skin tone caused by photo ageing.

*Consumer test on 102 volunteers on SPF50+ reference
To cover your face and neck, you will need around a quarter of a teaspoonful of sunscreen. Use your fingertips to massage it into every corner and curve of your face before letting it absorb for a few minutes. Then you're ready to start applying your everyday makeup routine with a high SPF, setting you up for a day of perfectly protected skin.
2. How to choose the right sunscreen for your makeup routine
Your makeup is on, your day has started, and now it's time to reapply SPF over your makeup. What do you reach for? When it comes to the right sunscreen for top-ups, there are a few key features to look for. You need it to be:

Weightless: Richer sunscreens are going to wipe off your makeup base, so go for lightweight formulas that look and feel invisible.

Portable: You're probably going to be reapplying sunscreen on the go, so you'll want something small and compact, like a handbag-friendly lotion or SPF spray.

High in protection: The higher the SPF, the less frequently you'll need to reapply. Choose a sunscreen with at least SPF30 for both your base layer and touch-ups over makeup.

Broad spectrum: There are two types of UV rays you need to protect your skin from: UVA rays, which are associated with skin ageing, and UVB rays, which cause you to burn. Make sure your sunscreen shields your complexion against both by looking for 'broad spectrum' on the label.

Skin-friendly: Every complexion has its own unique needs so make sure your sunscreen is perfectly suited to your skin type. This will help it work better with your makeup too. For example, if you have dry skin, choose a sunscreen infused with nourishing ingredients, or if you're acne prone, pick an oil-free SPF.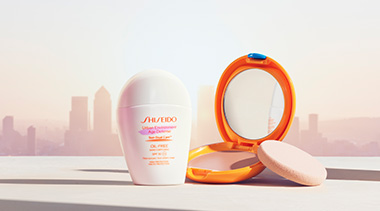 3. The best makeup-friendly sunscreen products
We've done the SPF search for you so you can reapply sunscreen over your makeup with confidence. These are the products we recommend for those regular top-ups…
Sports Compact BB SPF50+

Fusing sheer coverage with high protection and a host of skincare benefits, the Sports Compact BB SPF50+ is the definition of multitasking makeup. It makes sunscreen reapplication easy, delivering a hint of a tint in a cream compact, which you can press onto skin to keep an all-day shield intact. Plus, like the Expert Sun Protector Face Cream, it features WetForce Technology, so if you sweat throughout the day, the BB cream's protective veil will become even stronger. Find out more about our WetForce technology.
Sports Invisible Protective Mist SPF50+

Ultra-soothing and cooling on skin, this sunscreen mist is a must for hot, humid days. It teams up high protection with hard-working ingredients that stay intact even during strong, sweaty workouts. You can mist it directly onto skin over makeup, making sure you close your eyes and mouth as you spritz, then use fingertips to tap in any excess for an instant, non-sticky shield. This must have spray also contains Shiseido's fresh odor-harmonizing fragrance which catches the smell of perspiration and synchronises with it, changing the perceived scent into a pleasant one. Perfect for those days when you're most active, you no longer need to worry about the smell of perspiration.
4. Mastering the art of SPF reapplication: How to apply SPF over makeup
Applying sunscreen over makeup is made ultra-simple using an SPF Spray or compact BB cream with SPF . Start by shaking the SPF spray well to ensure the ingredients are properly mixed. Hold the spray about 6-8 inches away from your face and mist it evenly, making sure to close your eyes and mouth. Allow it to settle for a few seconds before gently pressing it into your skin with clean hands or a makeup sponge to ensure even coverage. If you're using an SPF BB cream, apply it with a clean makeup brush or your fingertips, starting from the centre of your face and blending it outwards. Gently pat and blend the BB cream into your skin until it's well incorporated with your makeup. Remember to reapply sunscreen throughout the day, especially if you sweat or rub your face, to maintain optimal protection.
5. Harnessing the power of hybrid sunscreen for sensitive skin
If you have delicate skin and worry that layers of sunscreen over makeup will aggravate pores, look to hybrid sunscreens for protection. These complexion-kind formulas merge both mineral and chemical UV filters, so you get the light-blocking effects of a mineral shield, and the gentle-to-skin effects of a chemical sunscreen. This is where Urban Environment Age Defense SPF30 comes in, giving sensitive skin the care it needs to stay protected from day to day. As well as anti-oxidants which shield your skin from air pollution, it is Infused with moisture magnet hyaluronic acid and Anti-Sebum Damage Complex for a shine-free finish, enabling you to reapply while keeping a delicate complexion soft and soothed.
Find out more about wearing SPF over makeup
1
Do you need SPF if you wear makeup?
Yes, wearing makeup does not provide sufficient sun protection on its own. SPF (Sun Protection Factor) is necessary to shield your skin from harmful UV radiation. Applying a separate sunscreen with SPF underneath your makeup helps to provide an additional layer of protection against sun damage.
2
Does SPF still work under makeup?
Yes, SPF can still work under makeup, but it may be partially diluted or diminished depending on the thickness and coverage of the makeup. While some makeup products may offer SPF protection, we recommend you apply a dedicated sunscreen as the base layer to ensure adequate sun protection.
3
Why is SPF in foundation not enough?
SPF in foundation or other makeup products may not provide sufficient sun protection for a few reasons. First, the amount of SPF in makeup is often lower than what is recommended for effective sun protection. Second, the coverage and even application of foundation may vary, resulting in uneven protection. Lastly, makeup tends to wear off or get rubbed off throughout the day, reducing the longevity of sun protection. However, we've infused the UV Protective Compact Foundation SPF30 with a high level of SPF to give you greater coverage. Apply a separate sunscreen lotion first, then use the foundation for regular top-ups to maintain a flawless look from day to night.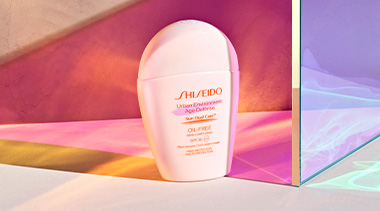 4
Can you reapply sunscreen without washing your face?
Yes, you can reapply sunscreen without washing your face. This is especially useful if you're wearing makeup that you don't want to disturb. However, your skin may feel fresher if you cleanse your face before reapplying sunscreen to remove excess oil, sweat, or dirt. You can use facial wipes or a gentle cleanser to clean the skin surface before reapplying sunscreen. Ensure that your skin is dry before applying a fresh layer of sunscreen.
5
What is the best way to reapply sunscreen?
The best way to reapply sunscreen is to follow these steps:
Gently blot or remove excess oil or sweat from the skin using blotting paper or a tissue.
Use a gentle cleanser to clean the skin if possible.
Apply a liberal amount of sunscreen to all exposed areas, making sure to cover evenly.
If wearing makeup, consider using a BB cream with SPF built in.
Reapply sunscreen every two hours or more frequently if sweating heavily or after swimming or towelling off.
6
How long does SPF 50 last?
SPF 50 provides higher sun protection compared to lower SPF levels. However, the effectiveness of SPF 50 sunscreen depends on a range of factors, such as the intensity of UV radiation, your skin type, and activities that may remove or dilute the sunscreen (like swimming). As a general guideline, SPF 50 provides protection equivalent to 50 times the natural protection time of your skin. For example, if your skin normally starts to redden after 10 minutes of sun exposure, SPF 50 would provide protection for approximately 500 minutes (10 minutes multiplied by 50).

However, it is essential to reapply sunscreen every two hours or more frequently for optimal sun protection. Make sure you're using at least a quarter of a teaspoonful to cover your whole face and neck, two milligrams per two square centimetres of skin on your body.
Up next
Looking for more advice on finding your perfect sunscreen? Discover our complete SPF guide for all the advice you need to stay safe in the sun.