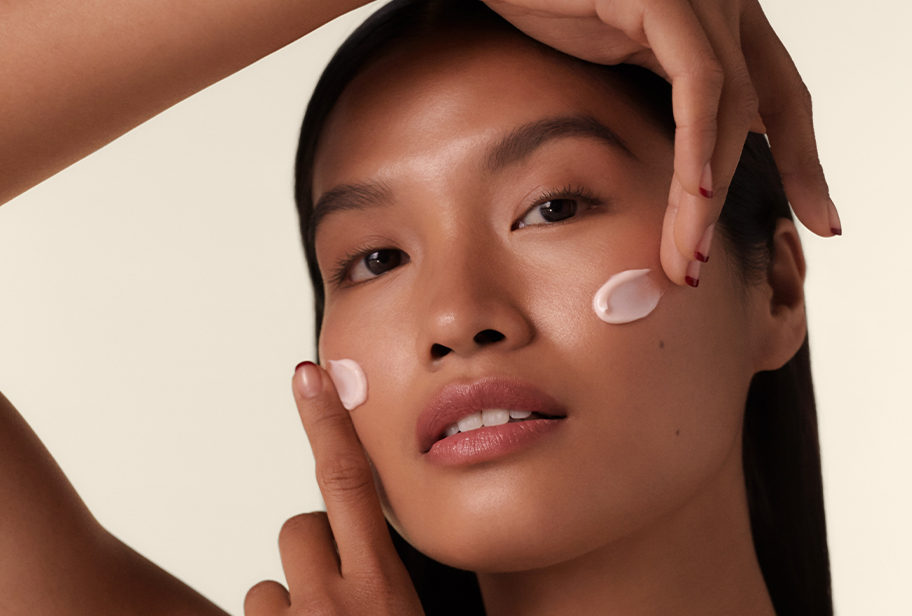 Are you struggling with a damaged skin barrier? Whether it's because of harsh weather, over exfoliation, or even too little sleep, it's easier than you might think to push that protective barrier to its brink. You'll know it's happened when your complexion starts acting out; it might be drier, redder or more sensitive than usual. These are all signs that skin barrier repair is needed – and immediate action is a must.
But how do you build those defences back up? The trick is to use the very best skin barrier repair products. Think soothing, strengthening formulas that restore sensitive pores back to their healthiest. Here, we reveal the eight key products to repair your skin barrier, rounded up in one easy-to-follow routine for the most nourishing care…
Understanding skin barrier repair products
Not all face serums and moisturisers have the ability to repair your skin barrier. It's important to look for formulas that bind moisture to your pores and aid the natural functions of your skin. Emollients, like Rice Germ Oil, and humectants, like Hyaluronic Acid and Glycerin, have deep hydration covered, so look for these in your cleansers, serums and face creams to tackle damage-induced dryness. Then, delve deeper into your products' ingredients lists to look for technology that supports your skin's defences. In the Shiseido collection, our formulas are focused both on nurturing pores and helping skin function at its optimal level. Tech to turn to for your skin barrier includes ImuGenerationRED, which boosts its defensive powers, as well as strengthening powerhouses, such as Fermented Keffir Extract. When you've found your routine, it's then crucial to keep it consistent. Only with continuous care can your skin barrier rebalance and return to full strength.
Top picks: best skin barrier repair products
1. Clarifying Cleansing Foam A gentle cleanser is a must for respecting and rebuilding the skin barrier. After all, it's important to keep pores clean, but you don't want to strip them of natural, essential oils. All of the Shiseido cleansers are kind to sensitive complexions, so reach for whichever is your favourite. If you're not sure where to start, the Clarifying Cleansing Foam is a cult-classic, failsafe pick. It creates a veil of protection on your skin that reinforces barrier protection, while moisturising Rice Germ Oil tops up hydration levels for the most comfortable cleansing experience. How to use it: Day or night, massage the Clarifying Cleansing Foam into damp skin for a luxurious lather. Start with the Perfect Cleansing Oil to remove SPF and makeup, rinse thoroughly, then apply the Clarifying Cleansing Foam for perfect double cleansing routine.
2. Eudermine Activating Essence
There's a reason skin essences are such a staple in Japanese skincare routines. These light, liquid formulas are surprisingly potent and powerful, absorbing deep down into pores to deliver intense nourishment. They also boost the effects of the serums and face creams you apply on top, so you get turbocharged results every time. In the Eudermine Activating Essence, there's an added bonus: a dose of Fermented Keffir Extract. This not only improves your skin's balance, but bolsters your barrier by strengthening the corneocytes (AKA the 'bricks' that make up your barrier's 'wall'). Our other softeners, such as Treatment Softener also work to strengthen the skin barrier, using the functional fragrance ImuCalm CompoundTM, which also relieves stress (a contributor to skin barrier damage). How to use it: After cleansing but before serum and moisturiser, pump the Eudermine Activating Essence into palms of hands and press it into your skin. Alternatively, you could use a cotton pad to sweep it across your skin, just as you might with a toner.
3. Ultimune Power Infusing Concentrate
Because it's one of the most deeply absorbed products in your skincare routine, it's important to use a barrier-repairing serum with truly effective ingredients. Our #1 anti-ageing serum, Ultimune Power Infusing Concentrate, steps up to the challenge by harnessing Shiseido-exclusive ImuGenerationRED technology, which works to activate your skin's inner defences. This is key at a time when your built-in security system, the skin barrier, is struggling, as it will help protective functions get back on track. Plus, with the addition of botanical ingredients, including Lotus and Ginkgo, Ultimune creates the ideal environment for skin to protect itself against the effects of pollution (which is one of the key causes of skin barrier damage). How to use it: After the Eudermine Activating Essence has absorbed, use fingertips to massage Ultimune Power Infusing Concentrate into your skin. Focus a little extra on drier areas of skin.
4. Ultimune Power Infusing Eye Concentrate
Like the face serum, the Ultimune Power Infusing Eye Concentrate is powered by ImuGenerationRED technology, which allows it to enhance your skin's vitality and defensive properties. The eye area is delicate, and the pores are extra small, which means you need higher concentrations of ingredients to make an impact. That's why the eye edition of Ultimune also features 10x more concentrated active ingredients than the face serum. And, to really rejuvenate the eyes*, there's also Japanese Roselle extract in there, designed to boost the activity of two key defensive cells and strengthen the skin around the eyes. So, if skin barrier function is even suffering in this most sensitive of areas, Ultimune Power Infusing Eye Concentrate is a day and night must. How to use it: Apply Ultimune Power Infusing Eye Concentrate morning and evening, after cleanser and softener. Press the pump once to dispense the perfect amount, then smooth it gently around your eyes. *In-vitro test: Japanese Roselle Extract is boosted with Fermentation Technology to boost the activity of two key defensive cells and empower the skin.
5. Ultimune Power Shot
Think of the Ultimune Power Shot as the ultimate flash facial. Fast-acting and hard-working, it's a barrier repair essential, infused with all the power of Ultimune at 15x the concentration. Its effects are also accelerated by B-Glucan to enhance the function of Langerhans cells (which control your skin's immune response), Reishi Mushroom to ward off external stress, and Hibiscus Flower extract to strengthen skin's inner defences. Perfect for a compromised skin barrier that craves urgent and intensive repair, this is the skincare equivalent of 'bringing out the big guns'. How to use it: To repair your skin barrier, apply the Power Shot in place of the Ultimune Power Infusing Concentrate for one week. Then, to maintain the results, apply it twice per week as a supercharged treatment.
6. Vital Perfection Uplifting and Firming Cream
Moisture is a must all year round, but especially when your skin barrier is flagging, as your cells won't be able to absorb and retain water as they usually would. So, by bestowing your parched, stressed complexion with a rich formula that levels up hydration, you're replacing what it's lost, while giving it the care it needs to rediscover its inner strength. Vital Perfection Uplifting and Firming Cream is the perfect moisturiser for the task, with a velvety, sumptuous texture that offers instant relief to dry complexions. It also features Shiseido's exclusive KURENAI-Trulift Complex, which is made up of Safflower, Bulgarian Rose Water and Odoriko extracts to promote skin resilience and elasticity. How to use it: After the Ultimune Power Infusing Concentrate has absorbed, simply apply the Vital Perfection Uplifting and Firming Cream over the top. Use it day and night for best results.
7. Urban Environment Age Defense Oil-Free SPF 30
When your skin barrier is compromised, your pores are more susceptible to the ageing effects of UV rays. So, make sure you apply SPF every day to shield your sensitised complexion and prevent future barrier damage. Urban Environment Age Defense Oil-Free SPF 30 is our pick, as it feels wonderfully weightless on your skin, combining high UV protection with safeguarding against urban aggressors, including pollutant particles. How to use it: Shake the bottle, squeeze, and apply the Urban Environment Age Defense Oil-Free SPF 30 over the top of your moisturiser. If you're reapplying sunscreen over makeup try blending it onto skin with a makeup brush or sponge.
30 Shades

- alabaster 110
8. Revitalessence Skin Glow Foundation SPF 30
With Revitalessence Skin Glow Foundation, even your makeup can boost skin barrier repair. This hybrid base is infused with two prebiotics – Niacinamide and Fermented Kefir+ – which are proven to strengthen your skin barrier's function. Meanwhile, light-reflective pigments veil your complexion in a luminous glow, while the buildable, medium coverage keeps signs of skin barrier damage, like dullness and pigmentation, under wraps. How to use it: Starting from the centre of your face, blend the Revitalessence Skin Glow Foundation outwards with the DAIYA FUDE Face Duo Brush, or use the warmth of fingertips to tap it into skin for a sheerer finish.
Skin barrier repair products – the FAQs
What are the key ingredients in skin barrier repair products?
Hydration is essential to boosting skin barrier repair. Some of the key ingredients you should look out for in your skincare include:
Hyaluronic acid
Ceramides
Niacinamide
Glycerin
Squalane
How frequently should I use skin barrier repair products?
Rebuilding your skin barrier requires a consistently caring approach, and it can take time to see results, so stick with your gentle cleanser, serum and moisturiser routine. Use your nourishing products daily, and try not to be tempted by exfoliants and actives until skin is fully healed. Depending on the level of skin barrier damage, it can take between one month and six months to fully restore skin health.
Can skin barrier repair products address sensitivity and redness?
Yes. Because the best skin barrier repair routine focuses on soothing and hydrating, it can be great for sensitive and irritated complexions. Plus, your healing ritual doesn't feature any harsh actives or exfoliants, meaning you won't exacerbate any redness – you'll simply comfort and calm your complexion.